Brands get up close and personal
By Louise Lucas
Published: October 13 2010 20:49 | Last updated: October 13 2010 20:49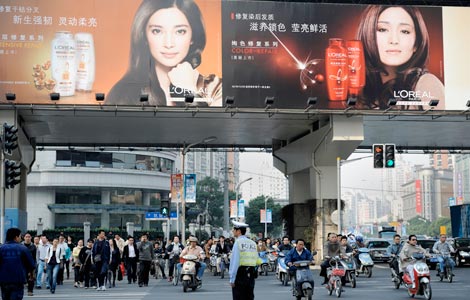 A Chinese woman squats on a low plastic stool, reaches for the shampoo and begins massaging it into her head, fingers working deep into her scalp in a kind of ritual. She is not the only Chinese woman to use conditioner like this – as testified by hundreds of hours of videotape, all filmed in Chinese bathrooms.
Perverse? Pornography? Neither: this is the Holy Grail of fast-moving consumer goods companies seeking to make products that consumers want. To that end, FMCG groups are earnestly studying human behaviour through focus groups, surveys and, more frequently in recent years, ways that are distinctly up close and personal.
The business of consumer research is intensifying on virtually every level. FMCG companies, which typically spend 2-3 per cent of sales on research and development, are going further afield geographically and conducting ever deeper research. New media are being harnessed, be it through social networks or blogs.
"Traditional research concentrated on the 'what'. Now we are trying to establish the 'why'," says Simon Stewart, marketing director at Britvic, the beverages company. "We are not asking what they think about products and ideas but focusing on what makes them tick."
The spread of digital social networks is one reason for the more sophisticated approach. But changing market dynamics are also behind the new focus. Competition and a weak economy make it ever more important to win customers, particularly in emerging markets. Indeed, so lucrative is the business of understanding what makes the Asian consumer tick that Singapore, never a place to miss a business opportunity, plans next year to set up a government-funded Institute for Asia Consumer Insights.
The same dynamics inform L'Oréal's experimentation in bathroom photography. In similar experiments conducted in other markets, the French cosmetics group discovered that Korean women apply more potions and cosmetics to their faces than anyone else – a total of more than 25 creams and cosmetics at any one time, compared with 20-25 in Japan and more than double the amount used by American or European women. Japanese women may apply more than 50 coatings of mascara at one time, making European women – five to 10 coatings – look mere amateurs.
New ways to generate feedback

Fast-moving consumer goods companies are devoting more resources to digital media. The increasing spread of social media gives them the perfect tool to understand consumers. Starbucks has nearly 15m fans on Facebook, more than Barack Obama or South Park; Coca-Cola has 13.5m fans and Oreo cookies 11m.

In addition to sheer numbers of consumers, the social networks can provide quick feedback. Britvic, for instance, points out that teenage boys are both big Tango drinkers and heavy internet users, providing a constant source of information and feedback.

These companies are also replacing old-style surveys and focus groups with field work. Experts from a range of disciplines – historians, anthropologists, semioticians – are increasingly called on to study consumers at close hand in order to analyse trends and build databases.
"It all starts with observation," says Patricia Pineau, who oversees L'Oréal's consumer insights team, talking about the company's "evaluation centres", which involve "labs" decked out as bathrooms as well as cameras in people's homes.
"Observing is necessary to decode exactly what [women] are trying to get and what they are attracted to. Sometimes it is the gesture that will reveal something that they really want to gain," says Ms Pineau.
And what gestures. Japanese women spend a full minute massaging in lotions, patting their faces and eyelids. In Brazil, women change their nail polish every day to match their dress – and are wanton with the brush, painting their fingers along with their nails and relying on a cotton bud to mop up afterwards.
Back in the labs, scientists respond in turn. Thus Lancôme's Génifique Youth Activating Concentrate has a stickier consistency in Japan than in Europe or the US, the better to pat in. Lip gloss is lighter in Japan, the better to allow the constant reapplication beloved of Japanese women.
Sometimes, however, gestures are not enough. Hence Nestlé's strategy of embedding researchers in family homes, taking tea with a multigenerational Indian family or sitting cross-legged on the floor pounding pulses with a group of scarved women and their jeans-wearing daughters in Syria.
Chandan Mukherji is a veteran of embedding. The New Delhi-based head of consumer insights at Nestlé India has in recent years watched the lifestyle of the middle classes in towns and cities seep out to the villages and countryside. Seated at the family table, he saw housewives were turning to instant noodles but that they still supplemented them with extra vegetables and garnishes. Nestlé responded by supplementing its own instant noodles with vegetables.
"It really is an eye-opener for most of the teams, because they get a real life understanding," says Mr Mukherji.
Also, after witnessing at first hand India's small kitchens and vulnerability to rodent infestations, the Swiss group reduced pack sizes.
Drinks companies take a similarly up close and broad remit – looking not just at what people like to drink but where and how. Take SABMiller, the brewer. In the important market of Latin America, the urge to go out to where its drinks were actually drunk – and especially to mix that favourite cocktail of beer and football – was strong but the availability of venues less so.
Rob Priday, managing director of SABMiller's Peruvian operations, says: "There's a dearth of pubs in the country. In the terrorist years, people did not go out and now it is over, there are not enough pubs for on-premises drinking."
Research showed that consumers want­ed more choice of places to drink and the results can be seen on the streets of Colombia and Peru. The company worked with local businesses and entrepreneurs to open café-style joints attached to soccer fields, where fathers can down a glass while their children play – or even have a kick-about themselves before sinking a glass or two. There are also bars where customers can play simulated golf or a few rounds of cards.
When Nestlé in Peru was debating which new flavour to introduce for its popular Besos de Moza – a marshmallow and cookie confection – it asked sweet-toothed consumers themselves to choose between the lucuma, a local fruit, or strawberry. "The feedback was amazing," recalls Carlos Velasco, who heads the Peruvian operation. They chose lucuma, and Nestlé went on to sell 56m lucuma-flavoured units in 2009.
Asking consumers directly is valuable but FMCG companies also call on a range of experts: historians for historical context (say, the caste system in India), psychologists, anthropologists and ethnologists and even semioticians.
Greg Rowland, a semiotician based in London, advises FMCG companies on the messages they need to send to woo customers through their packaging and placing on supermarket shelves.
Supermarkets, Mr Rowland says, are a battleground between puritan and hedonistic pleasures – plain fruit and veg stalls as customers first walk in, with the indulgent pleasures of alcohol and chocolate waiting to assail them further down the aisles.
We instinctively want to stay on the sober side, says Mr Rowland, so packaging of indulgent items is classily low-key. Hence the naive smiley face on Innocent's drink cartons or the use of white space on packaging for top-notch biscuits. Or take the heraldic devices on bottles of lager, designed to establish the brewer's authority in the minds of drinkers. This is serious stuff, the emblems say, none of your "hooch".
For all the time, money and expert investigation FMCG companies throw into understanding consumers, mistakes are made. During research into Japanese skincare, a L'Oréal team was surprised to see a woman supplementing her beauty routine with a tiny razor.
She slid it around her nose, below her eyebrows and on the nape of her neck. The reason: she was removing almost imperceptible hairs to get a better effect when powder was applied. As a non-daily ritual, and one that required the woman to bring her own razors (which were not on offer in L'Oréal's labs), it had until then completely bypassed the ranks of researchers.
Delivery can miss a step too: SABMiller, identifying a desire for a sweeter drink for women in Peru, produced the cider-like Red – which turned out to be extremely popular with the men.
But for consumers, the question is surely whether they are just victims of clever advertising.
As Mr Rowland says: "You may think you are buying and eating this tin of biscuits. But really, the tin of biscuits is buying and eating you."
Copyright The Financial Times Limited 2010.