Tea with the FT: Michael Caine
By Peter Aspden
Published: October 1 2010 21:54 | Last updated: October 1 2010 21:54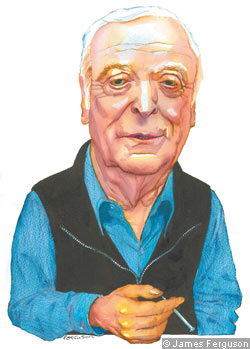 Disappointingly, Sir Michael Caine does not, when we are introduced, look me firmly in the eye and declare: "My name's Michael Caine." Nor, during the course of our tea together, does he at any stage say, "Not a lot of people know that", or – and this admittedly asked too much – "You were only supposed to blow the bloody doors off". Is there a greater deliverer of catchphrases in the history of cinema than Michael Caine?
He is, at 77, still an impressive figure, standing tall and possessing of a rich baritone with which he fires jokes with deft and natural comic timing. The accent is much-imitated and inimitable. "They've got scones and clotted cream here," he offers, and somehow makes it sound funny. I am not sure about the word "clotted", I say. It doesn't have good connotations. "That's just what I thought," he replies. "If it had just said 'cream' I'd have had it."
A shared concern for cholesterol levels established, we settle on smoked salmon and cream cheese sandwiches and cups of tea, English breakfast for him and Earl Grey for me. We are in a suite at the slightly soulless Wyndham hotel in Chelsea Harbour and there is a barrage of helicopter noise outside, as if there is a nationwide search for a runaway spy going on. It is because we are next to the Thames, says Caine knowledgeably (he has a flat just round the corner), the kind of thing Harry Palmer might say to put me off the scent.
Now that dates both of us. Harry Palmer – star of
The Ipcress File
, Caine's breakthrough role – hit the screens 45 years ago. The longevity of Caine's career is not the least remarkable thing about him. In his new autobiography,
The Elephant to Hollywood
, there are poignant personal recollections of two movie stars who were brought down by the pressures of stardom: one is Heath Ledger, the other Rita Hayworth. That is some chronological range. But Caine is still going strong.
Next year he once more reprises his role as Alfred the butler in Christopher Nolan's third Batman movie. He won critical acclaim for last year's Harry Brown, a hard-nosed vigilante movie shot in his native Elephant and Castle – a tough inner-London district (hence the title of his book). These are high-profile roles, in challenging and/or lucrative films. That is a rare feat for any actor, let alone one in the latter part of his eighth decade. How do you keep getting such great parts, I ask him? "I dunno," he deadpans. "I sit back and wait for my agent to ring."
But it wasn't always like that. The autobiography starts at an awkward moment for Caine. It is the early 1990s, and he is shooting a belated sequel to the Harry Palmer films, Midnight in St Petersburg, in the Russian city. He goes to the toilet. It is, he recalls, "the filthiest toilet I have ever seen in my life. No one had cleaned it out. And I suddenly thought: 'What am I doing here?'" He makes the existential crisis sound as desolate as Beckett. It sounds like a forlorn experience, I say. "It was just after the communists had gone. When we had lunch on location they gave us Geiger counters, to test the food for radiation. And of course the first thing we did was test the batteries!" He laughs loudly. "You don't want a duff battery!"
"It was a low moment," he confesses, turning serious again. "But I was quite philosophical about it." He saw the incident as a turning point. He was preparing to wind his career down, getting increasingly involved with his restaurant businesses and enjoying the easy life in his new apartment in Miami's South Beach. And then, wouldn't you know it, Jack Nicholson called. "He was the catalyst," says Caine. "I had got to that stage in life when you wouldn't even send me a good script. I had done a couple of duff ones. And then Jack was doing a movie with Bob Rafelson in Miami, and asked me to come. He said, 'Get off your ass and just do it.' And that changed everything. Jack is the nicest and kindest person, it was such a joy working with him."
The resulting film – the noir thriller Blood and Wine – didn't change the landscape of motion pictures, but Caine's appetite was refreshed, his career revivified. Along came Little Voice, The Cider House Rules, The Quiet American, Baftas, Golden Globes and an Oscar. He says one of the aims in writing the book is to inspire readers of a certain age. "As they get older, people think, 'It's over.' But it isn't. It doesn't have to be."
The food arrives. The sandwiches are triple-deckers. "Blimey! They give you a lot don't they? We will weigh 400lb by the end of this!" He offers to serve the tea but is flummoxed by a designer teapot. "I can never pour these bleedin' things. Either nothing comes out or it all goes all over the table." Between us, we crack it. Caine dutifully removes one of the slices of his sandwich and tucks in with relish.
Caine has a habit of saying nice things about everyone. He makes Hollywood parties sound like village green fetes. He doesn't even have a bad word for Frank Sinatra, for goodness sake. I am suspicious of this. When he first travelled there in the 1960s, was Hollywood not full of predators trying to shaft this presumptuous Limey?
"No, truly not. And you know why? Because I wasn't their idea of a Limey. I wasn't posh. I didn't have this superior English attitude. And I was all for them." His love affair with things American started during the war. "There were American soldiers parked in the local recreation ground and we used to make their beds in exchange for chewing gum and Coca-Cola. I didn't actually go there until Alfie." His maiden voyage happily coincided with an Oscar nomination. "But then I saw Paul Scofield in A Man for All Seasons and thought, there's no point in turning up." (Scofield duly won the award).
Was he an innocent when he went to Hollywood? "I was an innocent by Hollywood standards. What surprised me was the hospitality, how kind people were. Even the lawyers and agents were the nicest people." I raise an eyebrow. "Remember, I wasn't really competing with anyone. You weren't going to lose a part to me if you were Jack Nicholson." And then, in 2000, there was the knighthood, which helped. "They like a bit of King Arthur."
Never mind that, this was a town that famously spat people out for its own entertainment, I say. "It can do. But I wasn't successful until I was 30. And I was a very tough 30, not some giddy little girl."
The toughening of Michael Caine is the most sobering part of the book. Born Maurice Micklewhite to a working-class family in south-east London "with funny eyes, sticking-out ears and, just to round it all off, rickets", he was evacuated during the war to a couple who would lock him in the cupboard for the weekend while they went socialising. That's the kind of thing you read about in the Sunday papers, I say.
He shrugs it off. "A lot of children had a very bad time." But to be locked in a cupboard for a whole weekend? "They weren't wicked people. They took in the children for the money, and then didn't want to look after them. They wanted to go away for the weekend and didn't want to cart these dirty tykes from London around with them. Of course, when my mother came, she nearly went to prison for assaulting the woman. She beat her up."
He is unsentimental about the war. "I benefited from it. For a start I ate nothing but organic food for six years. We had no sugar, no biscuits, no fizzy drinks." He went on to serve in Korea. "It was a nightmare at the time. But I saw the world, and mixed with people from all classes and societies."
He speaks movingly of his parents, particularly his father, whom he describes as a "hero", a market porter at Billingsgate, who read voraciously and had an aptitude for technology, building his own radio from scratch. "He was a symptom of this country losing out on talent because of class," he says. "They never knew they had it, they never knew they lost it. But today computers will compensate for any bad education there is." He pauses for a second, and free-associates. "I'm a Google freak."
What do you Google, I ask?
"Everything. It's a wonderful thing. I had a gardener who didn't know much about gardening." (Read this out loud in a Caine voice and it is somehow hilarious.) "Every time I bought a plant I Googled it to find out how to look after it, and gave it to him and said, 'There you go'."
It can be a terrible distraction, I add. He evidently agrees. "I was looking for a penthouse once. And so I put in 'Penthouse'. Oh my God." I quickly wonder to myself how many people who hit the Penthouse website are actually after a penthouse. "And it's a funny thing – you can't switch it off. I had to take it out of the wall. I had to take the battery out." There is something endearing about this techno-porno nightmare. Perhaps Jack Nicholson should have been around, I almost say.
He says in the book that 1967's Billion Dollar Brain, the third Harry Palmer film, featured an early version of the internet. "I read that in the paper," he says. He remembers an adviser on the set trying to explain it to him. "I said, 'What a load of bollocks. Just tell me which knob to turn.' I thought it was the most preposterous thing I had ever heard."
Like many people, I say, I became fully converted to Caine's acting talents by his performance in Educating Rita, for which he gained weight, looked permanently drunk, and gave a startling portrayal of vulnerability. "I had never been offered parts like that. But it is the proudest piece of acting I have ever done. An English professor in a college – it was the furthest thing from me that you could get. It was the first time I completely disappeared." Was it hard to let his ego go like that? "I realised that I didn't have that kind of ego, worrying about looking great. I didn't care about that." He reminds me that he was in repertory theatre for nine years before his big movie break. "A different role every week. I love being an actor. And I love not being me."
Caine spends his time today between his Chelsea flat and his 200-year-old converted barn in Box Hill, Surrey, spending part of the winter in Miami. His days in Hollywood are over (he lived there for eight years, as a vociferous critic of Britain's tax regime). There is a touching account of a mournful farewell to his press agent on Rodeo Drive. "I went straight to Ermenegildo Zegna [he mangles the name magnificently] and bought a shirt." Did the retail therapy have the required effect? "I was all right. I got on a plane and went home."
Home is where his heart is. He is "besotted" with his three grandchildren, a strength of reaction that surprised him, and reveres family life. Both in the book and our conversation, he repeatedly pays tribute to his wife of 37 years Shakira, "the nicest person in the world", with whom he has a daughter (he also has a daughter with his first wife, the actress Patricia Haines). It is because of his family, he says, that his book is studiedly discreet about all those Hollywood parties. "When you fall in love, that becomes part of your past. Like mumps and measles. I didn't want to go into all that. Not like Kirk Douglas – he named them all, Marlene Dietrich, bleedin' Marilyn Monroe, everybody!"
As for the films, he says, touching every piece of wood in the vicinity, they keep rolling in. As well as the next Batman, he is preparing for a part in a version of Jules Verne's The Mysterious Island, about which he is unexpectedly rapturous. "I have grandchildren now. And I get to fly off on a giant bumblebee. I want them to see that."
..................................................
The Wyndham Grand
Chelsea Harbour, London
Traditional Afternoon Tea (all inc.) x 2 £30
Scottish Smoked Salmon w/ Herbed Cream Cheese x 2
Royal English Breakfast Tea
Earl Grey Tea
Total £30
Copyright The Financial Times Limited 2010.