Source - http://www.ft.com/cms/s/2/4ff78238-c876-11e0-833c-00144feabdc0.html#ixzz1VXl170bH


August 19, 2011 6:14 pm
Hold on to your woggles
By Rosie Millard
Forty thousand teenagers, 150 nationalities, two weeks of adventure in the Swedish wilds and a yelling Bear Grylls
Scouts test their prowess and apply their survival skills with axe, rope and pioneering pole
I am sitting on a bench in a large white tent, gingerly forking through what look like long red rectangles of Lego, swimming around pasta tubes in a greasy scarlet sauce. "Cheese?" offers a 14-year-old boy. I look at my food. It might help, I suppose. I put one of the ­rectangles into my mouth. It is some form of reconstituted, pre-cooked, refried protein, with the consistency of rubber. It is quite possibly the most repellent thing I have ever eaten.
This is spag bol, scouting-style, as served by the Explorer scouts of north London at the 22nd World Scout Jamboree, held this year in Sweden. And at the jamboree, great cuisine is not the point.
The north London scouts, along with 40,000 others from around the globe, have spent the past two years frantically preparing for the jamboree, which grips the Scout Movement every four years like a kind of Olympics.
Everywhere you look, there are scouts ­marching, digging "wet waste pits" (which are as ­disgusting as they sound) and, of course, singing. One hundred and fifty countries, from Albania to Zambia, are represented in a seething array of flags, knots, ­woggles and 24-hour scouting fervour. "It is ­awesome," marvels Hope Youngs, 14, from Romford. "Everyone's camp fire songs are well different from ours."
So are the uniforms: the French are in red, the New Zealanders black, while the Indonesians sport head scarves and ear muffs. A brigade of Italian scouts, effortlessly cool in midnight-blue jackets and long shorts, marches past. The Italians are very big on marching in pairs.
By contrast, the British bunch, 4,000-strong, are rather relaxed in their sweatshirts and pretty pastel tents. Elsewhere, the Czechs have wooden-­bottomed tents, while the Finns are up on poles. Nobody does it quite like the Germans, though, whose yurt-like accommodation is windowless, Teutonic and menacing. "Have you seen the German tents?" asks Samuel Blackman Gibson, 16, from a patrol in West Sussex. "They are awesome! They are big! They are black! They use ­pioneering poles!"
The famed pioneering pole
For the uninitiated, pioneering poles look like telegraph poles. There are several hundred ­thousand on site, freely available in giant piles. Scouts chop them up and use them for every imaginable ­purpose. If one had to choose a single symbol of scouting, you'd be hard pushed between a woggle and a ­pioneering pole. Almost every scout patrol at the ­jamboree has been moved to use them to construct some sort of monument, with furious amounts of clove hitches, square lashings and c­ompetitive zeal. The 8th Holborn has built a ­replica Tower Bridge, Paris St Germain has built the Eiffel Tower.
Anyone who thinks that scouting is on the wane should think again. The movement, founded by Lord Baden-Powell 104 years ago, is currently enjoying something of a boom. Via a smart combination of marketing, parental enthusiasm and a subtle shift of emphasis, scouting now attracts 30 million young people between the ages of 14 and 18 right across the world. In troubled countries, it keeps children out of armies.
Scouting's founder Baden-Powell
There are now more Muslim scouts than there are Christian ones. There are Pakistani scouts and scouts from Malawi. Apparently almost every child in Indonesia is a scout. Meanwhile in Britain, an institution which seemed fated to go the same way as the Boys' Brigade has achieved something of a renaissance, thanks in part to a wholesale dumping of the movement's overtly militaristic and ­religious trappings.
"We got smart," says Wayne Bulpitt, the UK chief commissioner, the most senior of 100,000 scout volunteers in this country. Executive director of a consultancy firm, Bulpitt spends half his time ­working for the cause. "We realised 10 years ago that we needed to change or we would become extinct," he says. "It's no good hoping to change a young ­person's life if you can't get hold of them in the first place. We urgently had to change our profile."
The traditional uniform, with its epaulettes and buttons, has been kept for special occasions but everyday gear was updated to a hoodie and scarf. Marching was quietly abandoned. Girls, allowed in the top age range since 1976, were now encouraged to join at all levels. But more than anything, the scouts decided to focus on a single notion guaranteed to have universal appeal: adventure.
Scout groups, even in urban areas, were told to go kayaking, abseiling, hiking and mountaineering. Throttled by health and safety restrictions at school and faced with increasingly sedentary leisure pursuits at home, scouting (note: you now use the active verb, not the noun) offered empowerment through activity. And young people responded. There are now half-a-million British scouts and 33,000 on the waiting list. There is even a credible yet aspirational celebrity figurehead – adventure itself, rendered in human form.
. . .
One evening, I am at the opening ceremony of the World Scout Jamboree waiting for this figure to make his entrance. Around me are Mexican scouts in sombreros; Swedes in sensible yellow macs; and more Indonesians, this time carrying a giant webbed construction with masses of beads hanging off it. The Arab contingent is entirely hidden under a vast flag. The French insist on leaping up and ­dancing, much to the alarm of officials, who want to keep everyone sitting down on the grass.
This is not actually all that difficult, as these young people do not seem to be keen on disorderly behaviour, let alone rioting. I sit and watch the many thousands of teenagers, each specially selected, each of whom has raised about £1,000 in order to spend two weeks camping on a muddy Swedish field, eating reconstituted meat and constructing things from poles. A bunch of Ugandans, who flew from Kampala to Rome and cycled the rest of the way are waving their flags like crazy. Everyone looks thrilled beyond belief to be here. Then they all start singing the jamboree song, "I'm Changing The World Today".
Suddenly, the song stops. On the huge stage, the music from Mission: Impossible booms forth. "And now!" thunders the PA system. "Britain's chief scout!" Forty thousand scouts rise to their feet. The marshals roll their eyes but this time they are power­less. Does everyone know who Bear Grylls is? Are you kidding? Man vs. Wild, the TV series that shows the dynamic Bear triumphing in all sorts of terrifying situations in the big outdoors, is screened across the world. His books are bestsellers. He was in the SAS. He has climbed Mount Everest. He has his own game on Xbox. He advertises Sure for Men.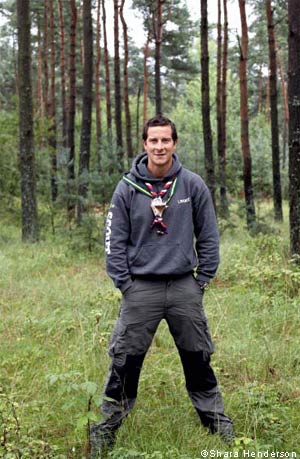 Bear Grylls, TV adventurer and UK chief scout
From above the stage, Bear appears, abseiling down a rope. Action Man incarnate. He is sporting a British scouting hoodie, his scarf is gripped by a giant furry chief scout woggle. The scouts go into ecstasies. "Who loves adventure?" yells Bear. A giant roar comes up. You can practically smell the satisfaction from the top brass. This is the personification of modern-day scouting.
Indeed, the combination of Bear and scouting is pretty much a marriage made in heaven. Both institutions need each other, as I learn when enjoying a bit of face time with the chief scout.
A small gaggle of wide-eyed scouts, who have managed to dodge the ropes, look on from a distance. Bear insists first that I have a cup of tea (smart man). Then he explains how life was for him in the UK before taking on the mantle of Baden-Powell.
"At first, with the British press, I was a superhero. Then you start getting killed for stuff." What stuff? The stories in 2007 about how Action Man preferred to stay in hotels rather than bivouac in the wild? Indeed. "And then the story grows, and the seed of something becomes a huge summer story."
Bear, clear of eye, chiselled of cheek and unshaven of chin, sighs. "Ran rang me up." Ran, in Old Etonian adventuring circles, means Ranulph Fiennes.
"And he said to me, Bear!" shouts Bear. "Take no notice of all that rubbish in the press! I have had far worse than that! In the '80s I was the devil ­incarnate! Just keep going!"
So Bear did as Ran advised. Then the scouts came knocking and all the opprobrium melted away.
The jamboree campsite
"The press stopped any nastiness since I took over as chief scout," admits Bear (real name Edward, but he won't answer to it). "It was like: if you diss me, you diss the scouts. And the press doesn't want to diss the scouts. People in Britain used to come up to me in the street and talk about my TV programmes. Now they come up and go: 'Bear! My son is a scout! Good on you!'" He pauses. "It's like a deflection."
He has clearly loved the organisation, though, ever since his first cub scout night when he was instructed, at the age of six, to cook a sausage with just one match. "And I thought, 'Hang on! This match isn't going to last long enough to cook the sausage!' And then you think: 'I know! I'll use it to light a fire!' It was a eureka moment."
Occasionally, Bear will launch into an escapade known as "Bear in the Air", in which he crosses the country by chopper in order to visit 10 scout patrols in a single day. "I go to council estates – say in the back end of Liverpool, or a tough area of Glasgow – and the scouts are there. And you think, gosh, this is an incredible, small group of guys. They are super-motivated, and they have found an identity and a purpose and a sense of belonging. And they are planning expeditions to Patagonia! When you give kids opportunity, they can do incredible things."
Bear has to go. He has to be in New York. As he leaves, he stops to shake hands (left-handed, the secret scout way) with the small group of hovering fans. An Australian scout charges up. "Oh my God!" she squeals. "Our leader will kill me if I don't get your picture!" Bear accedes graciously. A scout from Saudi Arabia comes up to me. "Is that a Swedish prince?" he whispers. But by this time Bear is out of earshot, walking away through the mud.
I chat to the scouts' celebrity wrangler, Dan Ownby, a Texan scout who is in charge of VIPs at the jamboree. Ownby is also responsible for flags. Can his unit identify all of them? Ownby eyes me suspiciously. "By the end I hope they will," he says. Which countries aren't here? "China. Cuba. Laos. Myanmar. North Korea. And Andorra." Wow. I didn't know Andorra had a communist regime, I say. "No, purely because of its size," says Ownby smoothly.
He tells me a little bit about the Boy Scouts of America, whose character seems rather different from British scouting, an overtly inclusive, multi-faith organisation where gay and lesbian members and leaders are welcomed alongside any other. By comparison, the Boy Scouts of America has only just allowed girls in at the top age bracket, and every time I mention homosexuality, someone from PR steps in to move the conversation on.
Never mind. American scouts have been in space. "Do you know that 11 out of the 12 men to walk upon the moon were Eagle Scouts?" says Ownby.
Who's your chief scout, then? I'll bet he's not as cool as Bear Grylls. "Rex Tillerson. Head of Exxon Mobil."
The world's scouts prepare to be entertained
. . .
Gumboots would be in order: rain is now tipping down across the churned-up fields. Police cars drive slowly past. This is a week after the Norwegian massacre, and security is tight. The flags whip in the wind. I stumble down the main thoroughfare and after walking for what seems like a couple of miles, eventually arrive for a cup of tea at the Northern Ireland unit.
Here, Matt Morrow, 17, from County Tyrone, is tying final knots on the kitchen, which is made out of pioneering poles. Why does he love being a scout? "People always go on about the stereotypes," he says, "but, you know, when you are abseiling down a 140° cliff face, or kayaking across the ­longest loch in Ireland, that doesn't matter."
"Without the scouts I wouldn't ever have been able to leap off bridges with a rope tied around my waist." Not necessarily a crucial skill, even in the wilds of County Tyrone, but one that Morrow insists has given him a great deal of confidence.
While all the young people I talked to said that scouting had increased their self-esteem, they also seemed content to operate within the abidingly top-down nature of the organisation. Explorer scouts might be adventurous, but they are also compliant to adult authority. (This does not extend to adult abuse. Indeed, the scouts are very hot on police checks for volunteers and the cover of the jamboree handbook includes a card about child protection.)
A strong sense of discipline, however, is still apparent. That this can be maintained alongside the notion that every Tuesday at the Hut promises an adventure, is an extremely clever feat. Unsurprisingly, it has also made the scouts wildly popular with parents. "My mum is so proud of me being a scout," says Charlotte Admans, 17, from Romford. "She wishes she'd done it herself."
Its conformity also means, despite all of Bear's magic, that in Britain at least, scouting still isn't particularly cool. "The first time I met someone I wouldn't tell them I was a scout," says Charlotte. "People are aggressively inquisitive. They think it's still like it was in the 1950s: all knots and Dyb Dyb Dyb, whereas in fact we are canoeing and abseiling." Charlotte also has another card to play. Scouting looks great on that personal statement for university entrance. "If it was you against someone else, you'd have the upper hand," she says.
The next morning I visit "Quest", a pioneering pole assault course lashed together with 5km of rope donated by the Irish Electricity Board. Hundreds of young people appear to be enjoying the process of hurling themselves over wooden bridges and swinging across woodchip paths. Quest is one of the seven or so formal activities which the scouts are expected to complete during the jamboree. More informal activities include ­meeting scouts from other countries, swapping badges, swapping entire outfits, smoking quietly in corners and rolling around with one another underneath the pioneering poles at night time. Is this frowned upon? "There are 40,000 young people here," says my official scouting escort, Stuart Card. "You're not going to stop it."
Tyler, US; Lisa, Finland; David, UK; Marie, Rwanda
Indeed, dating seems to be a scouting by­product. Most of the officials I chatted to appeared to be married, or at least partnered up, with fellow scouts, and apparently nine months after every jamboree, there is something of a scouting population blip.
"We learn about friendship," says Floris de Brabandere, a tall, archetypal Belgian scout from Ypres. What else, I ask, does scouting teach you? We already know about mating. What about survival in the wild? "Of course I could build a shelter," says Floris. "Of course I could trap an animal and eat it."
Sadly the British contingent is not so confident about its ability to kill and eat a small animal. "I can make pancakes and salad," says Lawrence Brand, from west Lancashire, "but I don't want to harm any animals." But could his unit put up a shelter and last at least one night in the open? No sweat.
Shreni, India; Paul, France; Marie, Hong Kong; Flo, Germany
"I can build a bivvy. And I would put a saucepan out with clingfilm to gather water," says Jessica Dent, 17.
"Where'd you get the clingfilm from?" asks Lawrence. Never mind. It was a good idea.
Another incidental thrill of the jamboree is that because it falls in July-August, the annual family ­holiday goes by the board. "This is much better than sitting on a beach," says Liam Mills, 15, from West Sussex. "Or sightseeing around Venice," chimes in his mate Jack Sharp. "Or walking around the streets of Crawley."
That night I join several thousand scouts on "Dream", a midnight adventure walk through part of the forest which surrounds the campsite. The idea is that you should walk backwards through your life, starting with Death.
Death is perceived by the scouts as dark, with green light filtering through dry ice and some accompanying spooky music. After this comes Old Age (Gandhi and Mandela), Middle Age (pictures of weddings), Childhood (big building bricks) and, finally, Birth.
Birth is represented by two widening lines of illuminated lights, through which we, the participants, must walk. As I stroll down what is ­presumably meant to represent a birth canal, and hence out of a vagina, I vaguely picture the spectral figure of Lord Baden-Powell hovering over the 22nd World Scout Jamboree. At first I imagine the author of Scouting for Boys would be horrified to see what had become of his creation. Then I think, actually, he would be quite proud.
Copyright The Financial Times Limited 2011.