Source:  http://www.ft.com/cms/s/0/0f3efb28-25b3-11e1-856e-00144feabdc0.html#ixzz1gcRptTwO


December 14, 2011 11:14 pm
Charity begins at the office
By Andrew Jack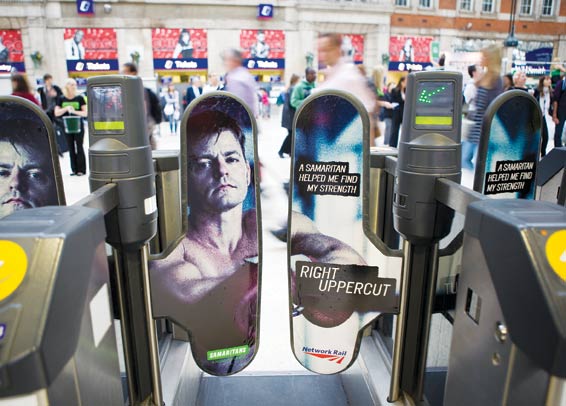 Life savers: Network Rail partnered with Samaritans, which provided publicity campaigns to help reduce suicides
The chief executive of Standard Chartered has many pressing financial issues on his mind but when Peter Sands hosts a conference call with the bank's senior executives on Thursday, one unusual item will be high on his agenda: its campaign to tackle preventable blindness.
Such sustained, top-level commitment to a charitable cause has helped the bank's success in raising more than $37m in eight years to fund 2.7m cataract operations worldwide in conjunction with staff and partners, including a donation-matching programme for the Financial Times seasonal appeal this year for Sightsavers.
But StanChart's Seeing is Believing campaign, which began as an employee suggestion for marking the bank's 150th anniversary in 2003, has triggered a far broader programme that embraces volunteering and technical assistance. It has also brought substantial benefits to the bank itself and even led to changes in working practices. "It captured the imagination and commitment of staff, and plays to our culture in cementing a very diverse business," says Richard Meddings, StanChart chief financial officer, who chairs the effort and points to its role in motivating employees and attracting recruits.
Such projects reflect a broader international trend towards more sophisticated partnerships between businesses and charities that go far beyond traditional chequewriting, a process that risks providing only short-term benefits while diverting an organisation's limited resources.
"We've gone from the chairman's wife identifying a worthy cause to cause-related marketing, with companies extending their brand by engaging with charities," says Ben Kernighan, deputy head of the UK's National Council for Voluntary Organisations, an umbrella body for the non-profit sector. "Companies recognise the huge range of skills they have to respond to the community".
Mr Meddings says StanChart's partnerships with local blindness charities around the world has led the bank to introduce "speaking" ATMs with Braille keys and to recruit from schools for the blind, especially in call-centres, where impaired vision need not be an impediment. In Uganda it has hired a former employee of a partner charity as an executive.
David Fass, Macquarie CEO for Europe, the Middle East and Africa, says the bank has partnerships worldwide, including the Cripplegate Foundation to tackle poverty in Islington, north London. "It not only provides valuable skilled resour­ces for the organisation, it provides development for staff. They come back more motivated, more creative . . . It broadens their horizons, working with a variety of stakeholders, [and] collaborating and engaging with senior colleagues."
Building stronger partnerships
● Make a partnership a high priority: consistent top management support works better than diktats.
● Match: contribute alongside employees' donations, and make it easier and more tax-efficient through payroll giving. 
● Partner for the long-term:one-off seasonal donations can be quickly forgotten and unsustainable.
● Be sensitive: employee polling to select charities may neglect less popular or well marketed causes.
● Identify shared values:common aims and objectives between a company and a charity help establish better partnerships. 
● Provide time and expertise:volunteering and technical assistance can add more than money for both parties.
● Service contracts: charities' skills and expertise can form the basis for successful commercial contracts.
These deeper partnerships reflect recognition of professionalism among charities, coupled with an urgency to seek financial support during the economic downturn and a shift in the way services are delivered by public and private sector entities alike.
Klara Kozlov, senior corporate adviser at the Charities Aid Foundation, says one shift involves busines­ses hiring charities to deliver services directly. "The charity/business divide is disappearing," she explains. "There is a move away from the 'funder' model of companies give and charities receive, to a relationship of mutual benefit."
Three years ago insurer Legal & General formed a unit to create links with non-profit groups. "A lot of partnerships are great for a charity of the year, but the company never learns from them," says Graham Precey, head of corporate social responsibility. "There is a lot of intellectual property in the third sector that would really help our business. We pay charities, which allows us to deliver better services and them to develop a new income stream and build capacity to work with other corporates."
Identifying Macmillan Cancer Support as one of the most important beneficiaries of L&G's employee donation programme led to it paying the charity to train 90 of its "critical illness team" in how to deal with calls from customers with cancer.
L&G has negotiated a similar arrangement with Age UK, a charity advising the elderly, recognising that "we've got a generation gap, with our 25-year-old employees talking to customers who are mainly aged over 55".
It also works with housing charity Shelter and funds all three groups for activities beyond its commercial contracts, such as joint advocacy work where they have common interests.
Such innovative approaches can help win funding for groups that work on less popular causes and those with fewer resources to market themselves for employee ballots. One such charity is the Samaritans. "We struggle to get corporate funding because we are not cuddly or sexy," says Rachel Kirby-Rider, its fundraising director. So she brokered a "commercial partnership" with Network Rail. The UK rail operator has paid the charity £5m over five years to run a programme that aims to reduce the number of suicides on British railways. These human tragedies also distress employees, disrupt passengers and lead to fines for service delays. "The basis is commercial but there are wider benefits," says Mike Carr, Network Rail's national safety improvement manager.
The Samaritans has trained station personnel to identify and talk to people they suspect may be contemplating suicide; counselled train drivers following deaths; and run a publicity campaign targeting men aged 30-55, those judged most at risk.
Jan Levy, head of Three Hands, a consultancy advising businesses on community engagement, praises such projects but cautions that effective partnerships require shared values, which risk being forgotten if "companies treat charities like cleaners".
Sir Stephen Bubb, head of the Association of Chief Executives of Voluntary Organisations, says: "[The charity] can't just be a subcontractor. You have to be involved in the way the contract is put together, and have ways to raise and deal with issues. But the marriage could be a really winning combination."
Ms Kirby-Rider concedes that a direct donation of £5m from Network Rail would probably have been spent on other projects for the Samaritans such as new systems to allow callers to phone the counselling service for free. But she remains very satisfied with the project. "This is a commercial partnership that saves lives and enabled us to do things we would not have been able to do," she says. "Network Rail staff are really excited about it, so you can achieve charitable and organisational objectives."
Copyright The Financial Times Limited 2011.